How to add a Panel which can be opened from an Action Menu
Jump to navigation
Jump to search
Panels can easily be given a location in the project area, making them accessible via a Popup in the 3D Visualization. However, Panels do not necessarily need to be related to anything spatial. For example, a Panel may display information about a specific Stakeholder, or information on policies encoded as values of Globals. Although not as trivial as setting a geographical location, it is possible to make a Panel accessible via an Action Menu.
This can be done for any Panel, and doing so consists of three steps. First, create the Panel which should be opened. Next, add an Event Bundle which triggers the appearance of the Panel. Finally, add the Event Bundle to an Action Menu.
Creating a Panel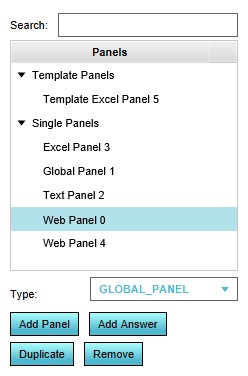 Panels form a (custom) interface element for the end-user. To use a Panel, it must first be added to the Project.
Open the list of Panels.
At the bottom of the left panel, select the desired type of Panel.
Click on "Add Panel".
The Panel is now added.
Creating an Event Bundle
How to create an Event Bundle to open a Panel:
Adding the Event Bundle to an Action Menu
How to create an Action Menu to trigger an Event Bundle:
Notes