Source
Jump to navigation
Jump to search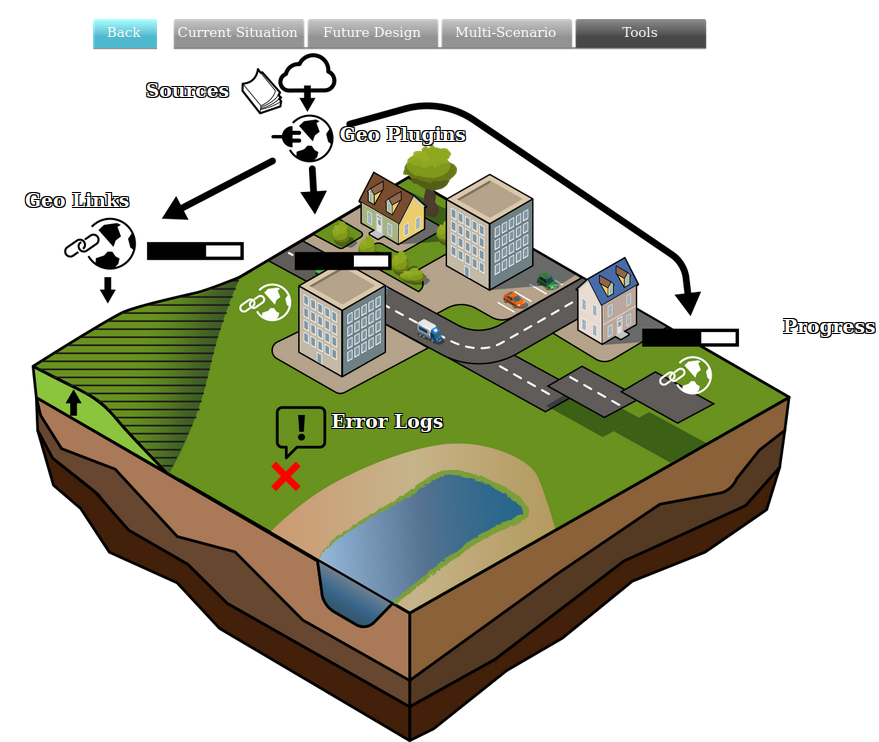 A Source is a definition for where data was or can be retrieved from. Most spatial Items, such as Buildings, Area s and Neighborhoods all have a list storing the Sources on which that item is based.
A Source's primary property is the url it is directed to. The data found at the url's endpoint is then interpreted based on the Service Type the Source is configured as. Sources based on local files are only stored using its file name.
When a Source is defined as a web source, it can be used as a source for the retrieval of data, either manually via the Geo Data Wizard, or automatically via a Geo Plugin.
Service Type
Depending on the external source or service, data should be interpreted in a specific way and can be used in specific ways. This means that for any given Source, an appropriate Service Type must be configured.
The following Service Types are available:
| Type | Used for |
| --- | --- |
| BGT_GML | |
| CYCLO_IMAGE | |
| ESRI_IMAGE | Connection to an ESRI-hosted WMS for image data. |
| ESRI_JSON | Connection to an ESRI-hosted WFS for vector data which supports providing data in a geojson format. |
| GEOJSON | GeoJSON files, such as those hosted on the GeoShare |
| GEOTIFF | GeoTiff files, such as those hosted on the GeoShare |
| I3S | |
| OSM | |
| WCS_TIFF | Connection to a WCS for grid data which supports providing data in a GeoTIFF format. |
| WFS_GML | Connection to a WFS for vector data which supports providing data in a gml-conformant XML format. |
| WFS_JSON | Connection to a WFS for vector data which supports providing data in a GeoJSON format. |
| WMS_IMAGE | Connection to a WMS for image data which supports providing data in a png or jpeg format. |
Notes
When creating a new Source for your project, the Service Types selectable are a subset of all possible types:
How-to's
See also
---